Description
Prices from $595.00 per door.
RETRO is the revival of the classic door leaf but with unique designs and modern, innovative door technology.
From traditional american panel door design, to your own design, the retro elegance is available in many of our frameless, framed, swing or sliding door models. The doors have advanced wooden jambs and include modern magnetic lockcases, not found on other classical doors, as well as innovative 180° pivot hinges with a minimal, timeless effect – no ugly barrel hinges on these special doors. Concealed 3D hinges in several colors are also available. The frames are available for all wall widths and are engineered for very fast installation.
These wooden framed doors are distinguished for their unique design that highlights the purity and simplicity.
Innovative mounting and wood composition techniques, a wide variety of patterns, and several lacquer options make this door a best-seller in contemporary interior design. Like most of our products, these doors are available in swing, exterior sliding, interior sliding and pocket door variations.
The doors are available in 259 colors in both classy matt and gloss finishes. Pricing starts at $595 per door.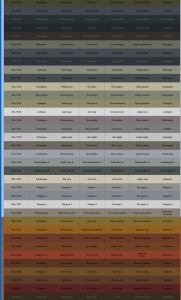 For more information, please CONTACT US