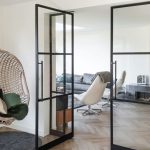 oneplane™ Glass doors harmonize perfectly with frameless wooden doors in minimalist architecture.
The design elements are available as:
Glass Pivot Doors
Glass Sliding Doors
Fixed Wall Panels
Shower Enclosures
Single, Double, Fixed and Door combinations.
The safety glass is either laminated or tempered, according to the project requirements, and comes in transparent, bronzed, grey, green or matt hues.
Insensation Inc. is a NY State corporation and is headquartered in New York City. Our US organisation is set up regionally with representatives in New York, Chicago, Denver, Los Angeles, Miami and Stamford.