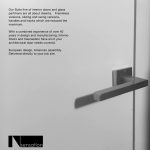 Our Suite line of interior doors and glass partitions are all about dreams. Frameless versions, sliding and swing versions, handles and tracks which are reduced the maximum.
With a combined experience of over 40 years in design and manufacturing, Interno Doors and Insensation have all of your architectural door needs covered.
European design, American assembly. Delivered directly to your job site.