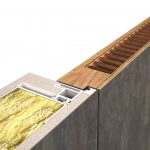 Millworkers, carpenters and cabinet makers who want to mill their own door leafs can create fantastic frameless doors with our systems. Our pre-milled SUITE 150 frameless frames come complete with 3D concealed hinges, magnetic lock cases, gaskets and anodised in any of 10 colors, starting at a mere $410 per frame.
There are two versions of our frames which work with both 1/2" and 5/8" sheetrock, single or double, and create the strongest frameless doors on the market. Our customisation is extensive, with hinges in aluminum, black or white, gaskets in white or black, and versions for standard, room-high or double doors.
Clearly, we also provide complete units with door leafs for those architects and contractors looking for one-stop shopping.
Visit our Online Shop.