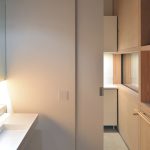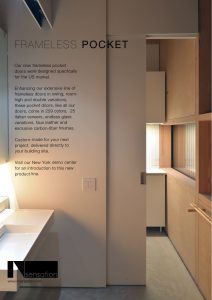 For architects and contractors seeking a complete frameless pocket door kit, without having to source the track, hardware, wall reception piece, floor guide or drywall studs themselves, Insensation offers a turn-key solution which is both of high acoustic quality and eliminates any installation errors of the pocket on building sites.
Suite Slide accommodates single or double 5/8" sheetrock, to ensure your pocket wall is sturdy and strong. Doors leafs can be provided by us or you. The system works with doors up to 1 3/4" (45 mm). The system is engineered using a metal stud wall thickness of 3 5/8" with a total finished wall width of 6 1/8"
Suite Slide is available in bulk quantities at standard US sizes (7′ and 8′), or on a made-to-measure basis for individual projects. Ask us for bulk pricing if you are a building supply company.
Enhancing our extensive line of frameless swing, room-high and double doors, these pocket doors, like all our doors, come in 259 colors and 25 italian veneer finishes – custom made for your next project.