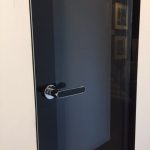 Insensation is proud to announce – Exclusive 100 – a true frameless GLASS door with either push-in or pull-out functionality. The doors can be manufactured with any kind of transparent or coloured glass, as well as anodised aluminum plates, carbon-fibre and even leather.
The high-end exclusive nature of this product makes it suitable for high-end residences, hotels and commercial buildings. The installation is as easy as our other frameless systems, and includes next-generation magnetic lock cases (no visible strike plates), high-end 3D concealed hinges, and is available in 45 mm or 1 3/4" formats.
The prices start at $1995.00 per door for coloured glass at 7′ (2133 mm) heights and widths up to 35" (900 mm). Larger sizes, double doors and other finishes are available.